ZO® Skin Health
At Lake Nona Ophthalmology, we pride ourselves on giving our patients the most enhanced care in our office and at home which is why we offer the result driven and clinically proven skincare line, ZO® Skin Health. ZO® Skin Health was created and is scientifically formulated by world renowned dermatologist, Dr. Obagi. It focuses on restoring your skin's health which improves your skin's appearance.  
ZO® skin care products are perfect for individuals of any age, any skin type, or any ethnicity, and can work with any number of skin conditions. 
How Can ZO® Skin Care Help My Skin?
Your skin's health and appearance can affect a person's confidence as they navigate through their daily lives. When you start a ZO Skin Health regimen that is personalized to your needs and concerns, your skin will start to improve for the better. Not only will your skin look more youthful, even, and radiant, you will also love your skin and be more confident in it. It's never too late to have great skin with ZO® Skin Health. 
Lake Nona Ophthalmology has been a proud member of the ZO® Skin Health Circle Club, exclusively changing lives with their products since we introduced the line to our practice in 2017.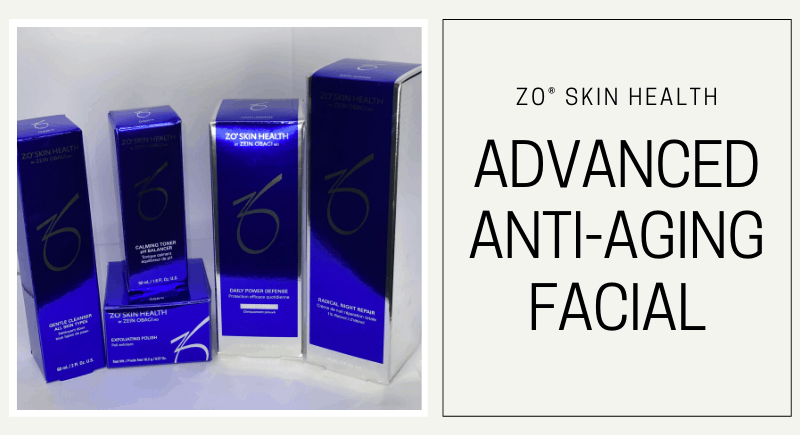 What Makes for a Good ZO® Skin Care Routine?
A good ZO® skincare routine starts with a visit to the Lake Nona Ophthalmology med spa and our team of experienced skin therapists is overseen by Chirag J. Patel, M.D., FACS, board-certified and fellowship-trained ophthalmologist.
Lake Nona is proud to have an Esthetician who was Orlando's First certified ZO Expert, and has also been a member of Dr. Obagi's Aesthetic Advisory Board, known as ZO Crew, since 2018. She has also personally trained with Dr. Obagi and continues to expand and share her knowledge of ZO Skin Health with all our providers to ensure our clients receive the best skin care guidance and routines available today. 
During your visit, our team will perform an in depth skin analysis and together, we will develop a ZO® skin health treatment plan.
 The skin is a complicated organ with 5 different layers. In order to improve its appearance and health, your skincare routine needs to stimulate and work on all layers. ZO® Skin Health products are specially designed to perform certain functions and work synergistically with the rest of your ZO routine to restore your skin health and improve your skin's appearance.
What Does a Typical ZO® Skin Care Routine Involve?
The beauty of ZO® skin care products is that they can be personalized to address a variety of conditions. These treatments are perfect for oily skin and acne prone skin, skin that's been exposed to sun, sensitive skin, and aging skin that's losing elasticity and collagen. The basic ZO® skin care regimen includes:
Getting Skin Ready (also called GSR)
This portion of your regimen includes your cleansing, exfoliating, and toning step of your skincare routine. These 3 steps are the essential part of your routine. They rid your skin of dirt, oil, debris, dead skin, and ensure your preventative and corrective products can penetrate into the appropriate layers of the skin.
Prevent and Correct
This portion of your routine contains products that are designed to be preventative and corrective. Whether it's acne, pigmentation, rosacea, dryness, wrinkles, and loose skin, this portion of your regimen will create the most changes to your skin. 
Protect
Sunscreen is the last step of your skincare routine! Sunscreen ensures that your skin is protected from UVA/UVB damage throughout the day. ZO Skin Health takes protection one step further with its ZOX12 patented technology. ZOX12 is a 12hr antioxidant time release technology that fights off free radical damage that can cause pigmentation and premature aging. ZO Sunscreens also protect against HEV rays (also known as blue light). These rays are found in indoor lighting, computer screens, and phone screens and can break down the skin's cellular health 2x's faster than UVA/UVB rays. 
Supplementary
You're taking care of your facial skin, but what about your eyes? Are you on a corrective program and need something a little more calming? ZO Skin Health has a variety of rejuvenating eye creams, calming moisturizers, pore refiners, and Vitamin C products that can be added to any skin care routine for a truly complete skin health approach. 
Is The ZO® Skin Care Line Right for Me?
ZO® skin health products work well with all skin types and conditions, including: 
Acne prone and oily skin

Dry, rough, dull, or sun-damaged skin

Fine lines and wrinkles

Pigmentation and uneven skin tones

Red, sensitized skin
Finding the right skin care routine that can meet your expectations can be a daunting task, but it doesn't have to be! We love ZO Skin Health because it is a result driven line that has something for anyone who is ready to transform their skin.
Call us today at (407)857-3937 to get started on your journey to healthier skin.
 "If you want to feel good, have a martini…. Real skin health takes work." -Dr. Obagi
Save with Our Patient Reward Programs
Lake Nona Opthalmology offers various reward programs to help you save on the cost of our custom aesthetic treatments. Each time you receive a Lake Nona Med Spa service, you'll earn points that can be converted into coupons applied toward the cost of future services. It's easy to start earning for free, and the more points you have, the more money you save.
WHAT PEOPLE ARE SAYING
I love this place, it has been such of great experience to see the love Krishma Patel has on making sure your skin is beautiful and youthful. I love my facial with Katie and do not forget Andrea professionalism there. Thanks so much, can't wait to see more results. ❤️ Nelsa
Lake Nona Ophthalmology services are outstanding. From scheduling thru the actual appointment, the operation focuses in on the customer. Text reminders are sent before the appointment and the appointment starts on time or very close to on time.
The staff is friendly, the facility is very clean and Dr. Patel is fantastic.
The service was excellent, and I appreciate the professionalism and care demonstrated by the entire staff. Thank you for a really great experience."
Joaquin Reveron
2023-11-17
Excellent- Excelente
Doctor Patel and his staff are very attentive, professionals and punctual. I recommend Lake Nona Ophthalmology.