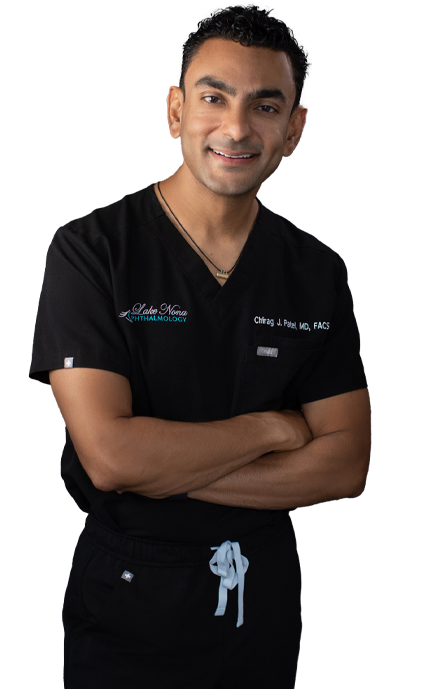 Chirag J. Patel, MD, FACS
Board Certified and Fellowship Trained Ophthalmologist
Founder
With roots in the small central Florida town of Fruitland Park, Chirag J. Patel, MD, FACS, developed a passion for people and the community at an early age. Chirag, a first-generation Indian-American, learned life's most important lessons from his parents, who operated a local business in the small town. Day in and day out, Chirag admired his father's ability to connect with his customers, neighbors, and community; his father still values those relationships to this day. The ability to help people and develop long-lasting relationships was a strong impetus for Chirag's pursuit of medicine.
Dr. Patel has always had a thirst for knowledge and excelled academically. Upon graduating as Valedictorian of Leesburg High School, Chirag continued his journey at the University of Florida.
More About Dr. Patel
During his undergraduate tenure, Chirag maintained leadership positions in many organizations, received many awards, such as the Anderson Scholar for academic excellence, and graduated Summa Cum Laude with a Bachelor's Degree in Interdisciplinary Sciences with a concentration in Biochemistry. At the University of Florida, College of Medicine, Chirag then spent four rigorous years studying the human body and the art of healing.
During this time, the doctor-to-be decided to pursue residency training in Ophthalmology, a highly selective specialty in which only 480 physicians are chosen nationally each year. Upon graduation with an M.D. degree from the University of Florida, Chirag moved to New York City to begin post-graduate residency training. He spent his first year at Richmond University Medical Center completing an internship in Internal Medicine. During this year, Dr. Patel gained valuable experience treating patients in the inpatient and critical care setting with all types of medical conditions such as Diabetes, Hypertension, and Heart Disease.
Dr. Patel then spent the next three years at the prestigious Mount Sinai Medical Center in Manhattan receiving top-notch training in Ophthalmology. During his residency, Chirag had the privilege of learning under some of the leaders in the field. During his final year of residency, Chirag served as Chief Resident and received an Ophthalmology Recognition Award from the New York Academy of Medicine. Dr. Patel then decided to purse an additional year of Fellowship training in Medical Retina and Research at the University of Florida – Jacksonville. Back in his home state, Chirag gained expertise in the treatment and diagnosis of retinal diseases, participated in nationally recognized clinical trials, such as DRCR.net and AREDS, published in peer-reviewed journals, and actively taught residents clinical and surgical concepts in Ophthalmology.
Dr. Patel remained at the University of Florida-Jacksonville thereafter as an Associate Professor of Ophthalmology and Director of Comprehensive Ophthalmology. Dr. Patel, has since founded Lake Nona Ophthalmology to provide a patient-first practice based on compassion, community, and cutting-edge care.
Dr. Patel is married to his college sweetheart, Krishma, and has two beautiful children. He enjoys friends, family, photography, running, and sports, especially the Gators.
WHAT PEOPLE ARE SAYING
I love this place, it has been such of great experience to see the love Krishma Patel has on making sure your skin is beautiful and youthful. I love my facial with Katie and do not forget Andrea professionalism there. Thanks so much, can't wait to see more results. ❤️ Nelsa
Lake Nona Ophthalmology services are outstanding. From scheduling thru the actual appointment, the operation focuses in on the customer. Text reminders are sent before the appointment and the appointment starts on time or very close to on time.
The staff is friendly, the facility is very clean and Dr. Patel is fantastic.
The service was excellent, and I appreciate the professionalism and care demonstrated by the entire staff. Thank you for a really great experience."
Joaquin Reveron
2023-11-17
Excellent- Excelente
Doctor Patel and his staff are very attentive, professionals and punctual. I recommend Lake Nona Ophthalmology.